You can enable Yesware's Calendar Sync by visiting your Salesforce configuration page in your Yesware account. To set this up, click to enable Yesware Calendar Sync. You can easily disable this feature by visiting this page at any time and clicking "Disable."

Once you've enabled Calendar Sync, Yesware will automatically sync the meeting with the Contact or Lead in Salesforce associated with the first email address added as a guest to the calendar invite. You can also manually select a Contact, Lead, Account, or Opportunity by typing them into the "Sync Calendar Event to Salesforce" box within your Gcal invite.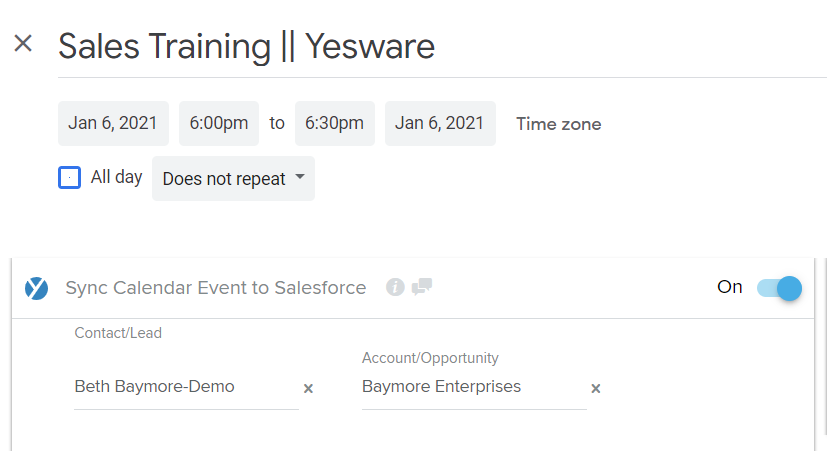 Once synced, the meeting can be found in the "Open Events" for the corresponding record in Salesforce until the date/time of the meeting has come and gone, and then it will show up in the "Activity History." If no match is found and you don't manually enter a record, then it will sync the event to Salesforce with no associated Contact/Lead and Account/Opportunity.
Please Note:
You can sync events in the past 30 days or future events

You must have the latest version of the Yesware extension installed, with all permissions enabled

Our calendar sync feature is only available to customers on our Enterprise plan