The blue cloud icon next to email addresses in a thread is a shortcut to our Salesforce sidebar. We introduced this feature to ease the process of looking up users or adding new Contacts in the Salesforce Sidebar. All you have to do is click the cloud button.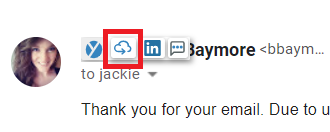 When you click on the blue cloud icon, the Salesforce Sidebar will search for any Contacts or Leads associated with that email address. From there, you may view or make edits to the record in Salesforce. If there isn't a Contact or Lead associated with the email address, you can easily add and save one using the Sidebar.
This feature is only available to Enterprise users with Salesforce enabled using Yesware for Gmail.