Yesware's Enterprise edition syncs directly with Salesforce, making it easy to keep your Salesforce account in sync with your most up-to-date customer information.
Here's why customers love our Salesforce sync:
Managers no longer need to nag reps about logging information to Salesforce
Reps save hours of time by automating data entry
Prospecting productivity increases as the need to toggle from inbox to CRM decreases
Not a Yesware user yet? Try a free trial.
Getting Started
After a simple one-time setup, Yesware will automatically add your tracking events into Salesforce for the contact or lead that you're communicating with! As your prospects interact with your message - opening it, clicking links inside it, and sending you replies - Salesforce will be updated in real-time with the same information.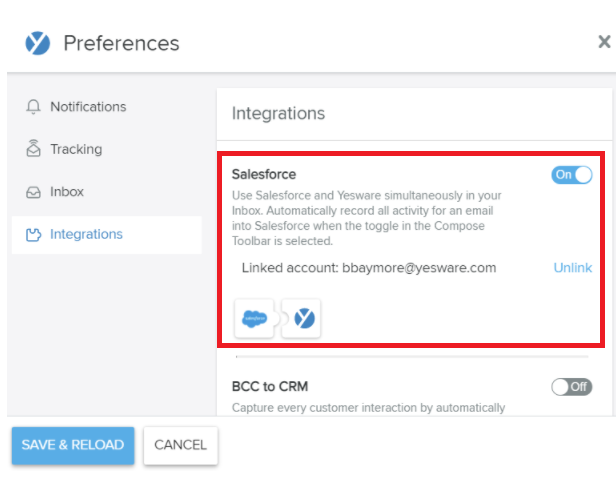 To enable this functionality:
Click the "Yesware" menu at the very top of Gmail and select "Preferences"

Navigate to the "Integrations" section

Under "Salesforce," make sure you've switched the toggle to the "On" position

Authenticate to Salesforce if you have not already done so, which will link your account

Click "Save & Reload"
Automatically Update Salesforce
Now that you've authenticated your account, all of your Yesware activities are going to be automatically pushed to the associated contact or lead in Salesforce. You can toggle this off and on as needed using the Salesforce cloud button at the bottom of your Gmail compose window. These activities will appear as completed tasks in the activity history of your contact. If you'd like to choose which record to sync the email to, you can use our Sync Selector. This feature shows the duplicate records and lets you select the Lead/Contact and Account/Opportunity your emails sync to. Once selected, Yesware will automatically sync that email and all future events for this message to that location.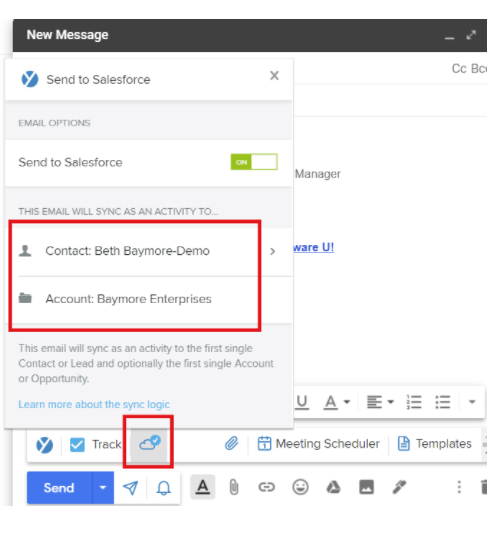 Each one of these tasks will also give you full details about the activity - where they were opened, on which device, what links were clicked, and when all of this activity occurred.
Google Calendar Sync
Salesforce integration goes deeper than your emails - using Yesware now syncs your Google Calendar events directly to Salesforce and associates them with the contact or lead you're meeting with. In addition, any events that you create in Salesforce will automatically be added to your Google Calendar. This means less manual data entry, better teamwork for appointment setting, and even mobile support for saving events from the road!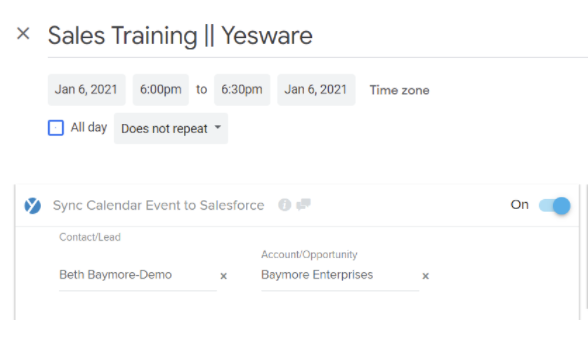 We sync your newly-created events (and event updates) within a matter of minutes - no more calendar confusion! If you're creating your events in Google Calendar, you'll be able to choose your Contact or Lead and Account or Opportunity while creating the event and we'll add an activity in Salesforce for you automatically. We also support recurring meeting sync to Salesforce for Enterprise users. Simply open the event in Google Calendar and check the box next to "Sync Calendar Event to Salesforce" to eliminate that extra step from your weekly routine.
View Your Salesforce Data Without Leaving Gmail
No more switching back and forth between Salesforce and Gmail - Yesware brings the two together! The Salesforce Sidebar displays your history with your Contact while you're viewing an email to or from that Contact. Each one of the tasks in your activity history is clickable and will bring you right to the Salesforce page with full details of said activity. Not only can you see your history with your contact, but you can also create new tasks directly from our Sidebar. Whether you use tasks to add a quick note about your most recent email from your prospect or remind yourself to follow up with them, Yesware helps you stay organized and efficient.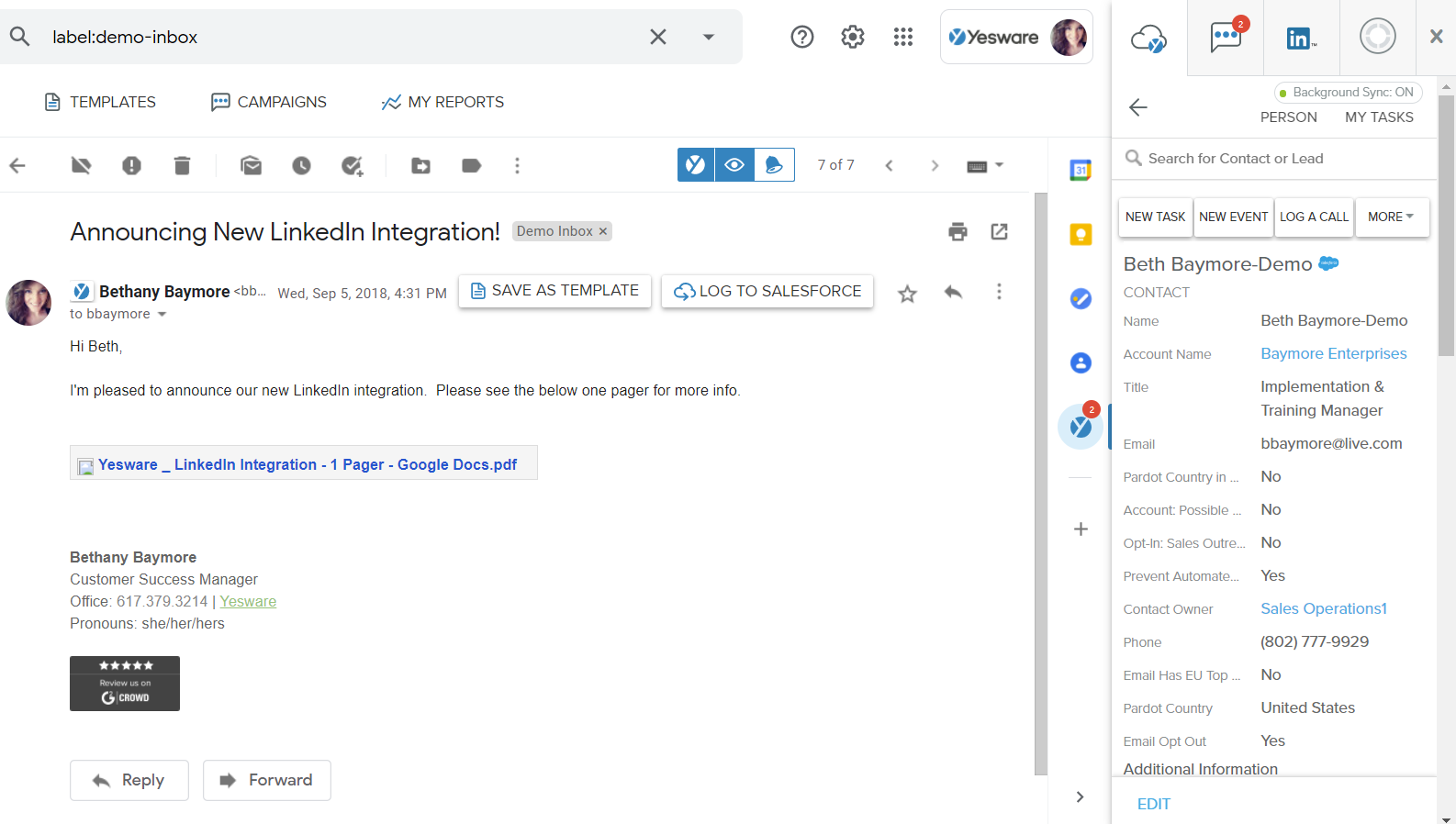 Build Up Your Salesforce
Adding a new prospect to your Salesforce pipeline has never been easier. Keep your contacts fresh and organized by opening up your Salesforce Sidebar while viewing an email thread. If you can't match your prospect's email address, you'll be prompted to enter that person's info into a simple form. We'll help you to add them to your Salesforce account, associating them with an Account, setting their Lead status, and adding contact information all with a simple form.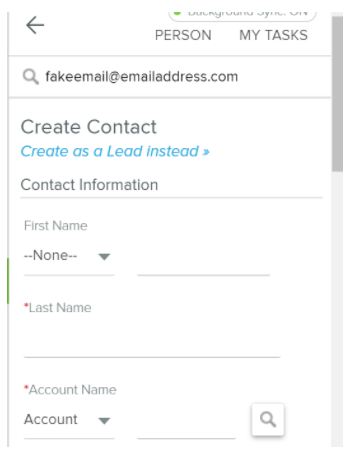 Use Salesforce's Reporting to See All Yesware Activity
In addition to Yesware's own reporting functionality, we've created a Managed Package for Salesforce, that will add custom Yesware reports & dashboards to the reporting dashboard in your Salesforce environment. These reports will give account managers and team leaders the ability to pull Yesware activity right from Salesforce, giving them valuable insight into rep activity and messaging success.