Ever wish you could read your recipient's mind? You can get pretty close to it with email tracking.
Tracking tells you:
When your messages are opened, clicked, and re-opened in real-time
Where and on what device your message was opened
When your links are clicked
Not a Yesware user yet? Try a free trial.
How Tracking Works
When you send an email with Yesware, we embed an invisible pixel at the end of your outgoing message. This way, when your message is opened and the pixel loads, you'll receive a notification letting you know. The best part? Your recipient won't see a thing. Unlike read receipts, our tracking pixel is completely invisible. So, you gain insights while your recipient has the same experience as usual.

Open the Yesware Sidebar to send a tracked email*
To send a tracked email, first, make sure that you've got your Yesware sidebar open by clicking the "Open Sidebar" button in your compose window. You will not be able to track emails if you do not have the sidebar open. The easiest way to remember to do this is to pin the sidebar so that it is always open - just select the pushpin icon in the upper right hand corner of the Yesware sidebar. Now, hit the send button and watch your recipient engage!
Tip: When drafting your emails, make sure that Track Email Opens is toggled ON (it's ON by default).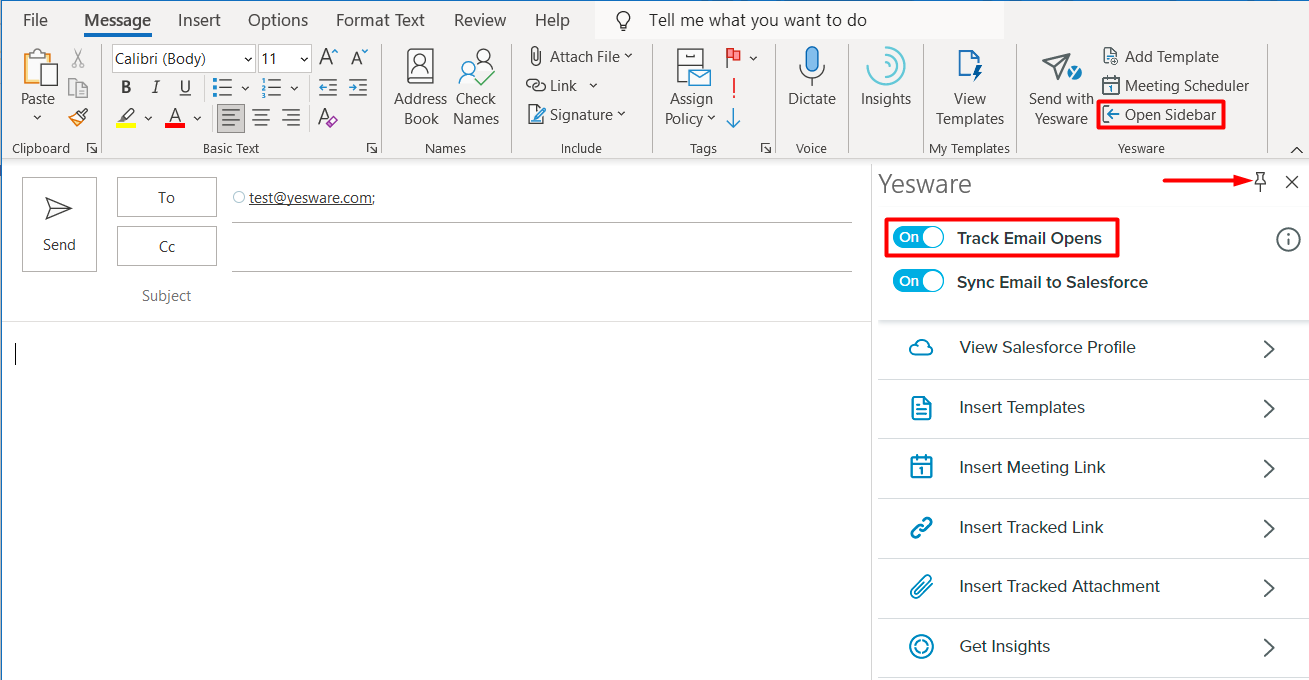 *Please note: you may be on a version of Outlook that instead requires you to use the "Send with Yesware" button in the upper right side of your compose window to track an email.
You will have to use the "Send with Yesware" button to track your emails:
If you use Outlook's Mac Desktop App
We will keep you posted on when you can switch to using the Outlook send button, but at this time, it is TBD.

Don't want to wait? Use Outlook Web Access

or reach out to

support@yesware.com

and ask for

Direct Install.
If you are not yet on Outlook's Version 2008 (Build 13127.21064) or above
Use Send with Yesware to send a tracked email (if your Outlook version necessitates it)
If you use Outlook's Mac Desktop App or are not yet on Outlook's Version 2008 (Build 13127.21064) or above, to send a tracked email, all you have to do is use the Send With Yesware button (as opposed to using the Outlook "Send" button) located at the top right of your Outlook compose window.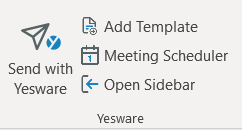 (Note: The email may be in your Drafts folder for a few moments before sending with this method)


Track Link Clicks
Track links within your email by selecting the "Insert Tracked Link" tab of the Yesware Sidebar within a compose window (click "Open Sidebar" in your ribbon) and fill out the Insert a Tracked Link prompts.
Text to Display: what word do you want to have hyperlinked?
URL: what web address do you want to send them to?
Title: this will be a description of the link that displays when a recipient hovers over the link
Just be sure to follow our best practices.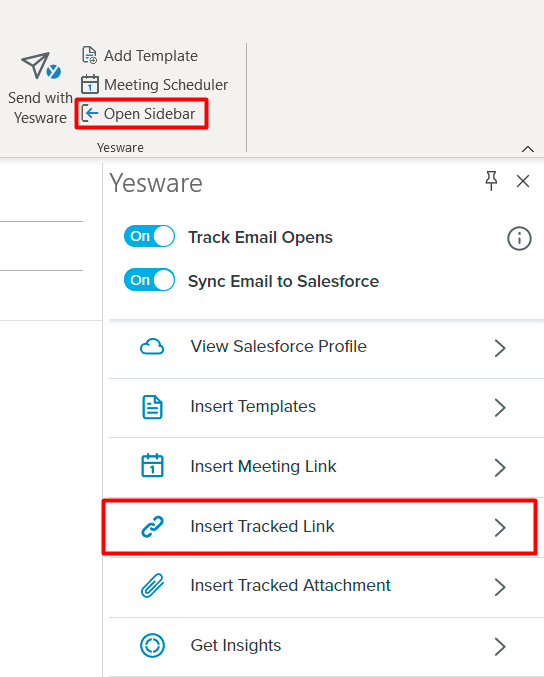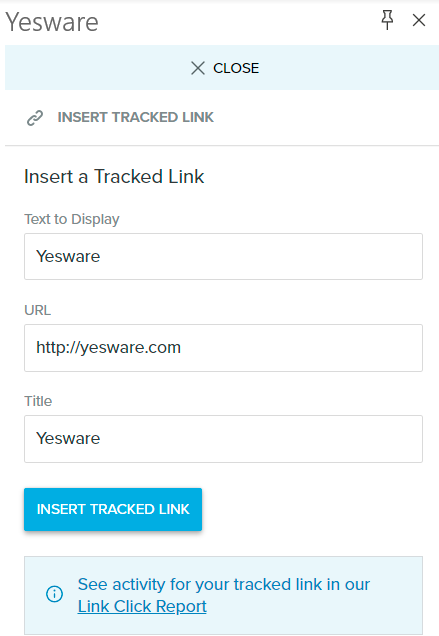 Leverage Tracking notifications to follow up smarter
You get notifications as soon as your recipients open a tracked email or click a link. We'll let you know 1) when they opened it and 2) what device they used to read it. You can access these notifications in the Tracking Tab when you click on "Open Yesware" (at the top right of your inbox). All tracking events appear under All Events and when you click on the Message tab, you'll be able to see the entire tracking history for a specific email on which you are clicked.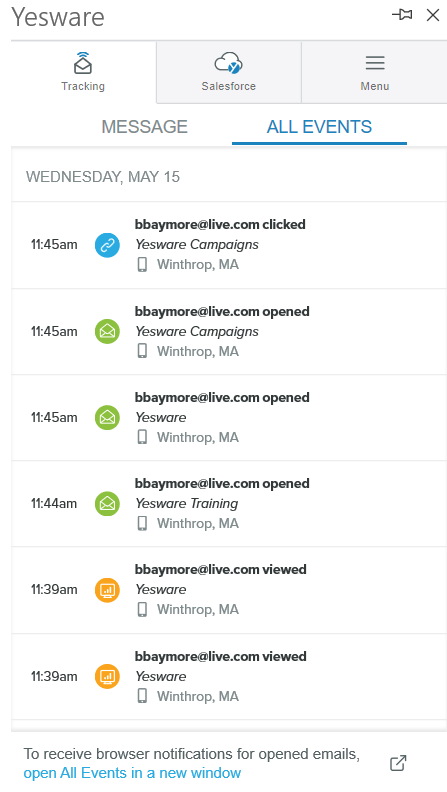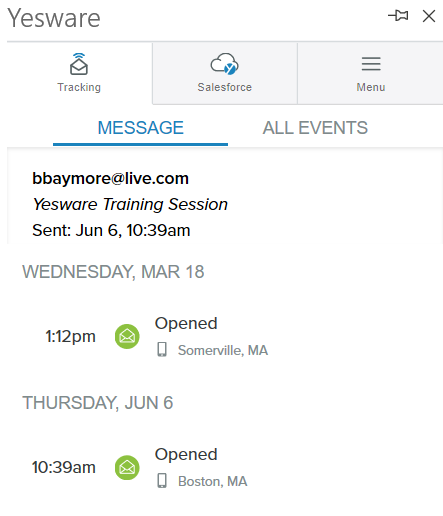 To enable pop-up notifications, make sure you have "Event Notifications" turned on in your preferences, located under the Menu tab of your sidebar. Then, at the bottom of the Tracking feed, click "To receive browser notifications for opened emails, open All Events in a new window." This will open up a browser window where you can allow for browser notifications, which will act as pop-ups so that you can follow up real-time.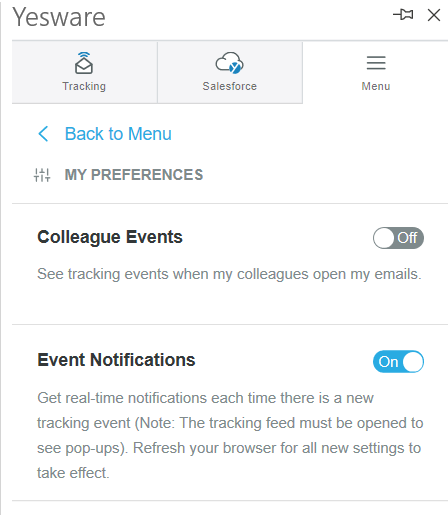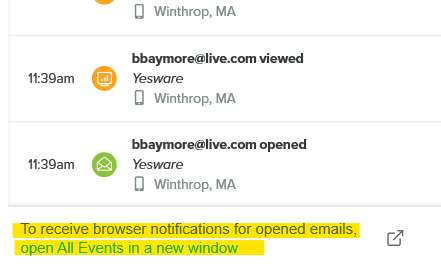 Are you using the Outlook Web App? When you're viewing an email, you can click on the ellipsis icon, scroll down to the add-ins area, and select Yesware to access the Yesware Sidebar.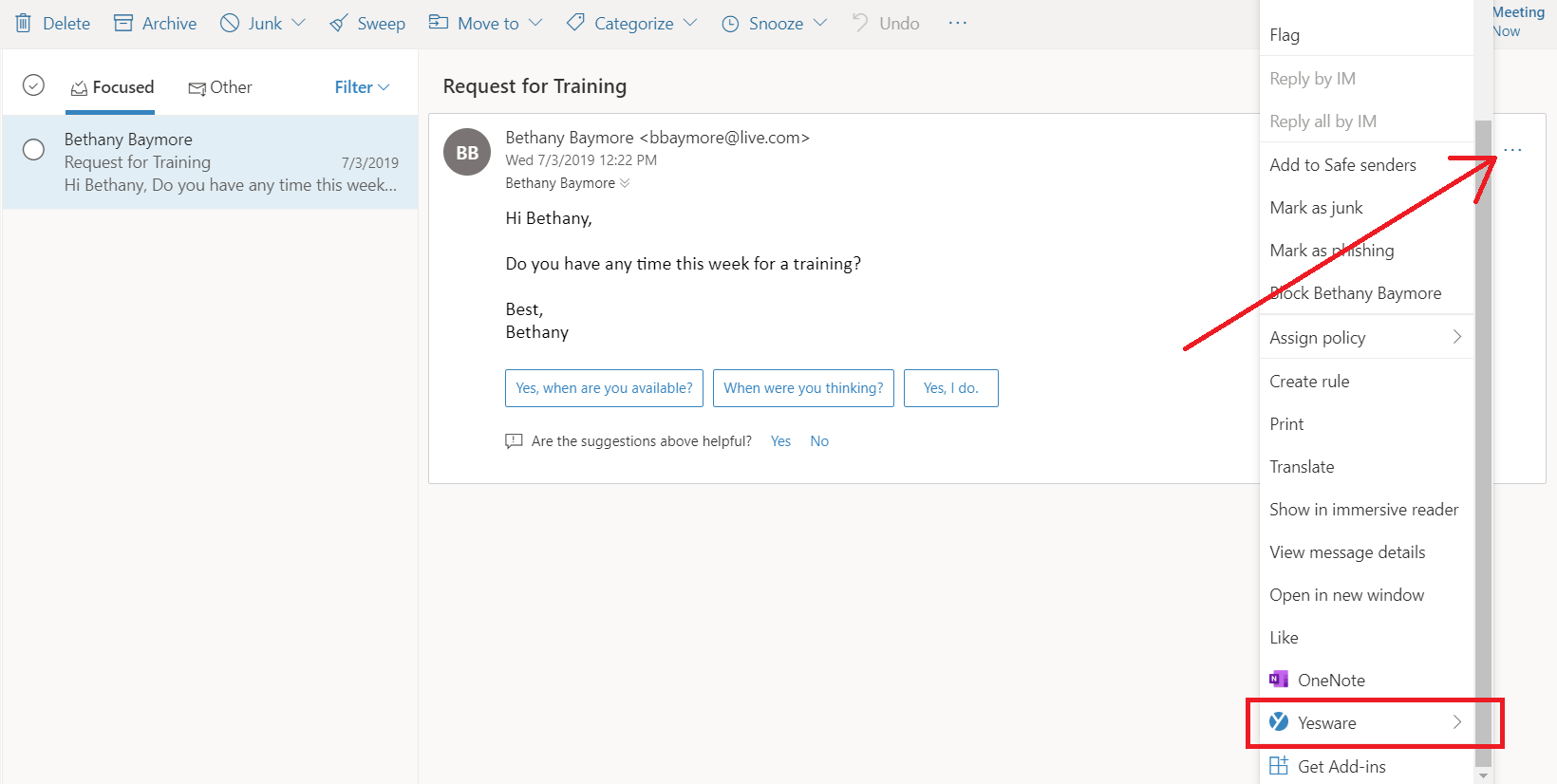 Best Practices
Sometimes, recipients have their images disabled. In this case, our tracking pixel won't be loaded, and we won't be able to notify you that the message has been opened. As such, we suggest that Yesware users have a signature line with images contained in them to encourage recipients to display messages. The tracking pixels will fire even if the recipient views your email using the Preview panel in Outlook.

Also be aware that if the message was sent to several people, colleagues were CC'd or the message was forwarded, we can only tell you that 'somebody' opened your message. Even still, our customers tell us it is useful to see when 'somebody' opened their message several times because that either means they love your email or it is being forwarded throughout the organization.

You can also insert a Tracked Link to see what content your prospects are interested in. This tracked link won't change the look of the message but may cause some issues if your recipients' spam filters are high. In these cases, try formatting your Text to Display as words, rather than full URLs (i.e. "Check out our website" vs. "Check out www.yesware.com") to ensure that your message ends up in your recipient's inbox.