The LinkedIn Sales Navigator Integration requires a Premium or Enterprise level plan from Yesware, and a 'Sales Navigator' Advanced or Advanced Plus plan (previously Team/Enterprise) on LinkedIn. Find your Yesware plan level HERE.
At Yesware, we believe in inbox productivity. That's why we create features that save you hours per week and minimize manual work.
We have an integration with LinkedIn Sales Navigator that's going to save you and your team some serious time. How? We pulled in some of the key functionality within Sales Navigator to make you more productive in your inbox.
Let's walk through the major benefits of plugging LinkedIn Sales Navigator and how to quickly get started.
New to Yesware? Sign up for a free trial!
We'll go over:
Accessing LinkedIn Sales Navigator from your inbox
Connecting and sending LinkedIn messages from the Yesware Sidebar
Finding matching LinkedIn profiles using email addresses from Gmail
Incorporating LinkedIn Sales Navigator touches in your Yesware Campaigns
Setting your Preferences
This integration is available on Gmail (or Google Business Apps) on our Premium and Enterprise plans, for LinkedIn Sales Navigator users (Team or higher).
Check out this video for a full overview of the LinkedIn Sales Navigator integration:
Access LinkedIn Sales Navigator from Yesware's Sidebar
There's a new tab in the Yesware Sidebar - LinkedIn Sales Navigator! You'll have quick access to even more relevant information as you're sending or reading an email.
Click on the Yesware icon on the right side of your inbox to access the Yesware Sidebar. Go to the LinkedIn Sales Navigator tab.
As you compose a new email, the LinkedIn Sales Navigator Sidebar will automatically populate a record based on the last email address you add in the To field.
If a matching record is found, you'll be able to see high-level profile information, and modules for Related Leads, Highlights, Recent Activity, and Get Introduced. Use this information to craft authentic emails with confidence!
You can also Save (leads) in Sales Navigator.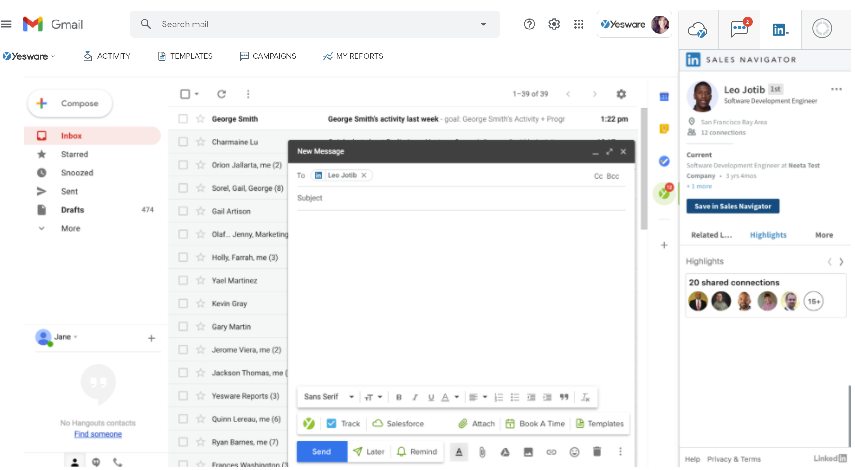 If Sales Navigator doesn't find a matching profile for an email address, you can still search for the right person.
Connect on LinkedIn via Sales Navigator and send LinkedIn messages
You'll also be able to Connect on LinkedIn and send LinkedIn messages without leaving your Inbox.
Click on Message to send a message via LinkedIn to a first degree connection, or click on InMail to send an InMail to someone who's not a connection yet.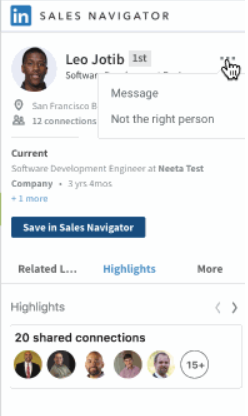 Not connected on LinkedIn? Send a Connection Request right from the Sidebar.
Use any email address in your inbox to quickly access LinkedIn profile
When you're composing an email or in an existing thread, you'll see a LinkedIn icon next to any email addresses.
Click on the LinkedIn icon to open the LinkedIn tab and see the matching profile. If there's no match, you'll be able to search for one.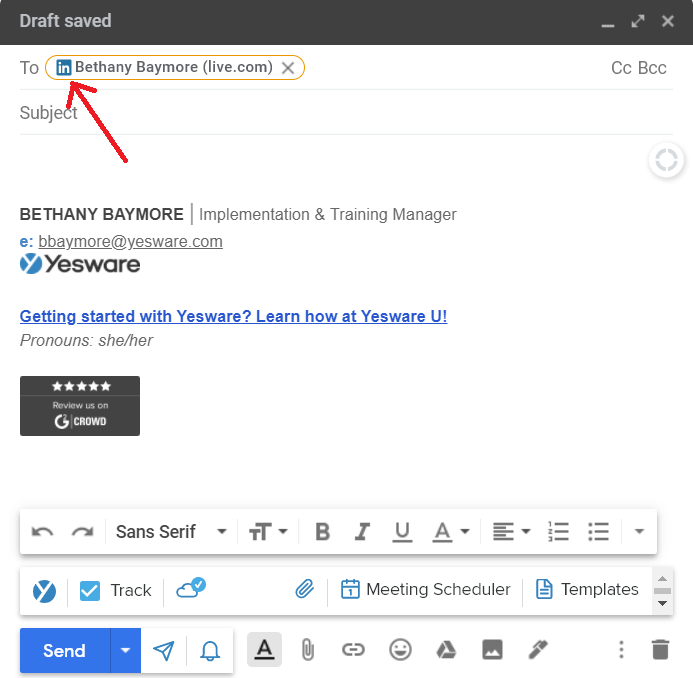 Handy tip: You can use this feature to validate that you have the right email address.
Add LinkedIn Sales Navigator touches to your Campaigns
Add LinkedIn Sales Navigator touch types to your Campaigns and take actions directly from the Campaigns To-do list!
As you're creating a Campaign, you can add touches where you Connect on Sales Navigator or send an InMail on Sales Navigator.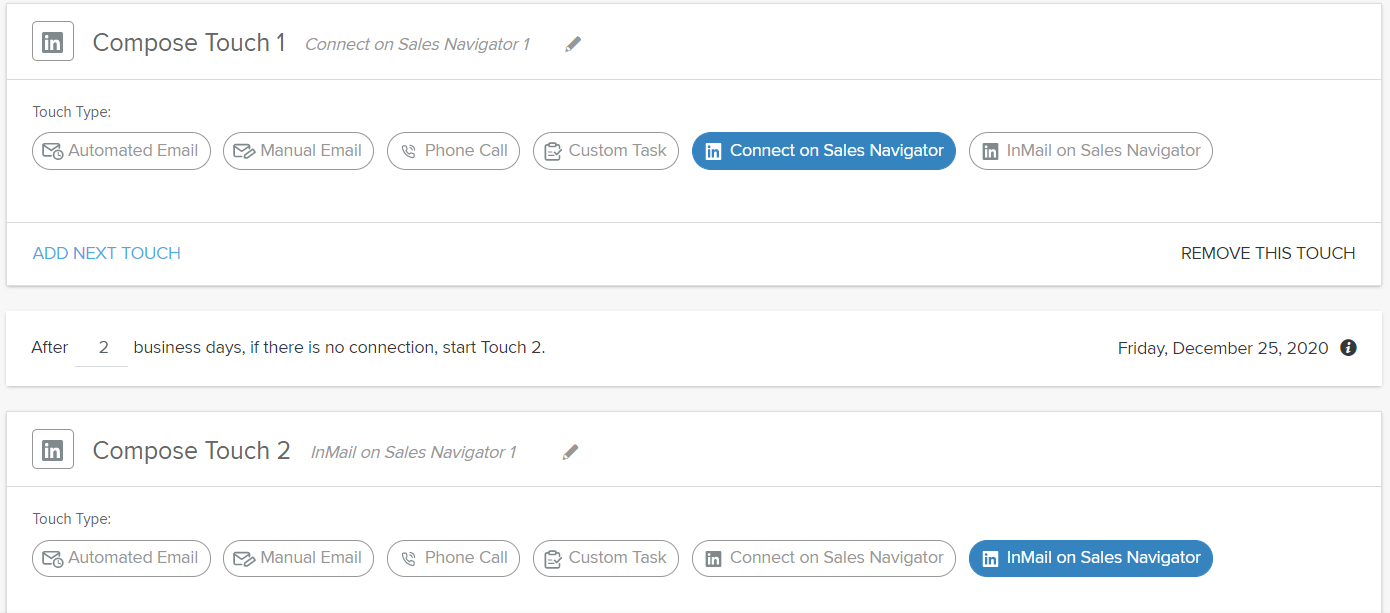 Once you've added recipients to your Campaign, any LinkedIn Sales Navigator touches will appear within your to-do list within the Campaigns tab of the Yesware Sidebar.
We automatically detect when you've completed a LinkedIn Sales Navigator touch, advancing your recipient to the next touch of your Campaign and syncing the completed task to Salesforce.
Enable or Disable the LinkedIn Sales Navigator Integration from Preferences
Th LinkedIn Sales Navigator tab is defaulted as ON.
The LinkedIn Sales Navigator integration is defaulted to ON. This means that: (1) the LinkedIn Sales Navigator Sidebar is enabled and (2) LinkedIn Sales Navigator touch types are available when creating a Campaign.
To change your preferences, go to Yesware (at the top left of your inbox). Then click on Preferences. Toggle LinkedIn Sales Navigator ON/OFF under the Integrations section.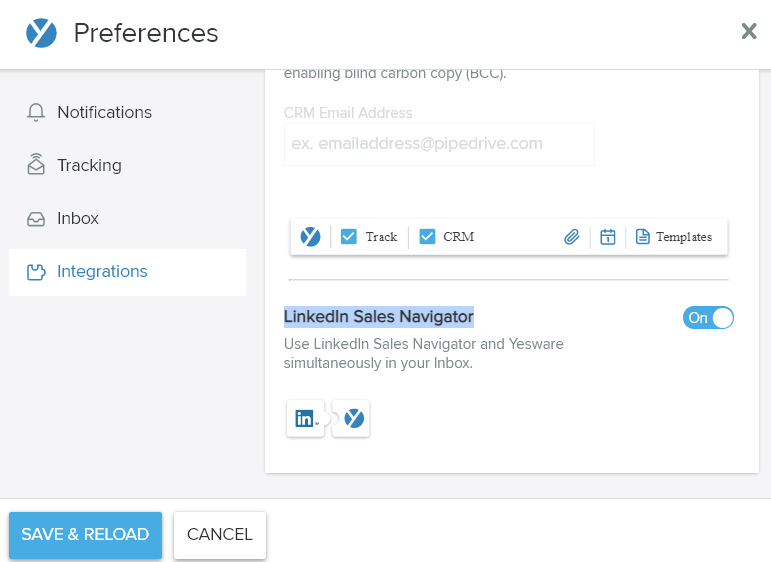 Are you a Yesware account admin? You can also turn ON/OFF the LinkedIn Sales Navigator integration for your account under Global Policies at app.yesware.com.
You can also manage per-user policies from Users and Teams.