If you're on our Enterprise plan and already use Salesforce, it's easy to incorporate Yesware to automatically store emails from O365. The Send with Yesware functionality will store not only sent emails in SFDC, but will also capture replies, open events, viewed attachments/presentations and link-click events into Salesforce automatically.
After a one-time setup, Yesware will add these tracking events to Salesforce for the contact or lead with whom you are communicating.
Not a Yesware user yet? Try a free trial.
This article contains the following topics:
How to connect Yesware with Salesforce

Automatically updating Salesforce when using Send with Yesware

Viewing Salesforce data

Syncing your O365 calendar with Salesforce
Connecting to Salesforce
Here's how you can connect to Salesforce in <30 seconds.
First, click on the "Salesforce" tab of your Yesware Sidebar. Then, click the Authenticate with Salesforce button. You can also integrate Salesforce via this link.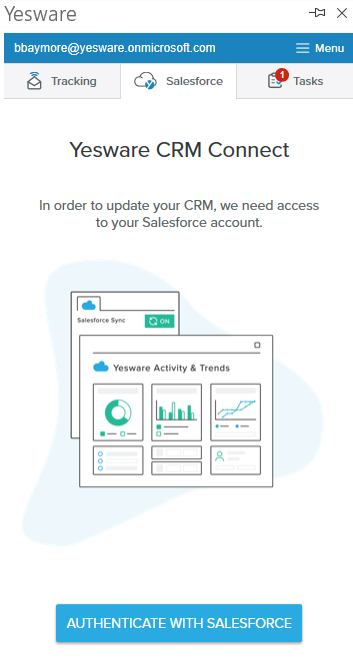 If you aren't already logged in to Salesforce, you'll need to do so now. Then, make sure to allow Yesware access to your Salesforce and click "authenticate."
Once you've set up, you should see Salesforce in your Sidebar.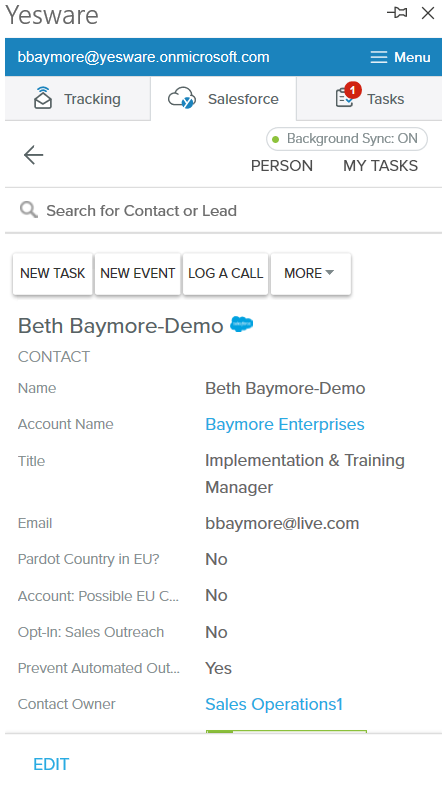 Note: If this doesn't happen automatically, simply restart Outlook.
Automatically Update Salesforce
Now that you're synced up, all of your Yesware activities will automatically push to the associated Contact or Lead in Salesforce. You simply need to pin open the Yesware Sidebar and hit the Outlook send button. You may still be on a version of Outlook that requires you to use the "Send with Yesware" button instead of hitting the Outlook send button- click here for more info if you're not sure which version you're on.
Once synced, these activities will appear as completed tasks in the activity history of your contact:

Each one of these tasks will also give you full details about the activity — where they were opened, on what device, and when all of this activity occurred. You can toggle this off and on as needed by clicking Sync Email to Salesforce in Yesware's Email Settings (in the Outlook compose window).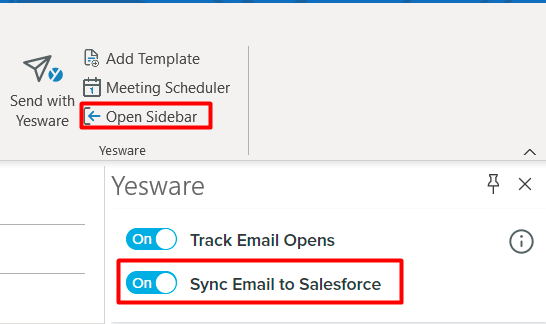 View your Salesforce Data without Leaving Outlook
No more switching back-and-forth between Salesforce and Outlook.
The Salesforce section of your Yesware Sidebar in the Inbox displays your history with your contact while you're viewing an email. You can click into each one of the tasks to view your activity history. Not only can you see the past, but you can also create future tasks directly from our sidebar. Yesware helps you stay organized by keeping everything in the same place.
You can expand the Sidebar in Outlook by selecting the "Open Yesware" add-in button at the top right of your inbox. Select the "Salesforce" tab, to get access to SFDC right in your inbox.

When composing an email, you can take a look at your Recipient's Contact/Lead record to view the most recent interactions and check certain fields that might be appropriate before sending an email. Enter the Recipient's email address in the "To" field, expand the Yesware Sidebar in the Compose window by clicking "Open Sidebar" if you haven't already done so, and then select the "View Salesforce Profile" tab.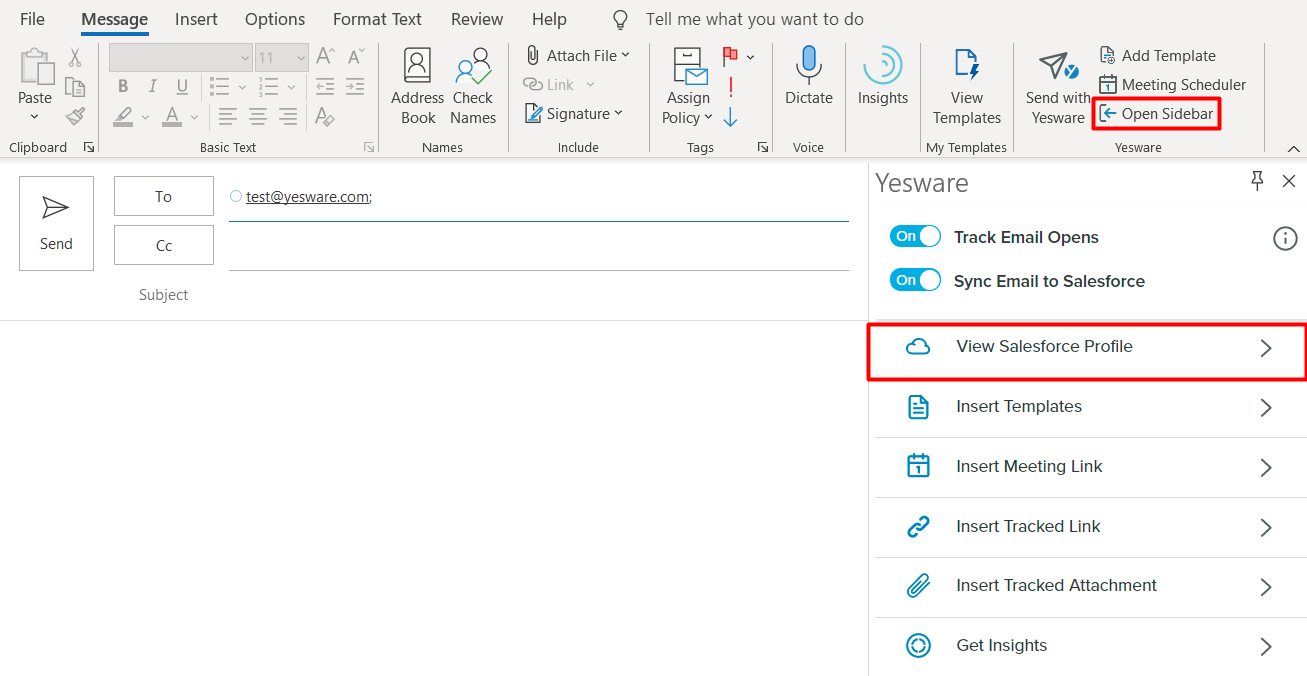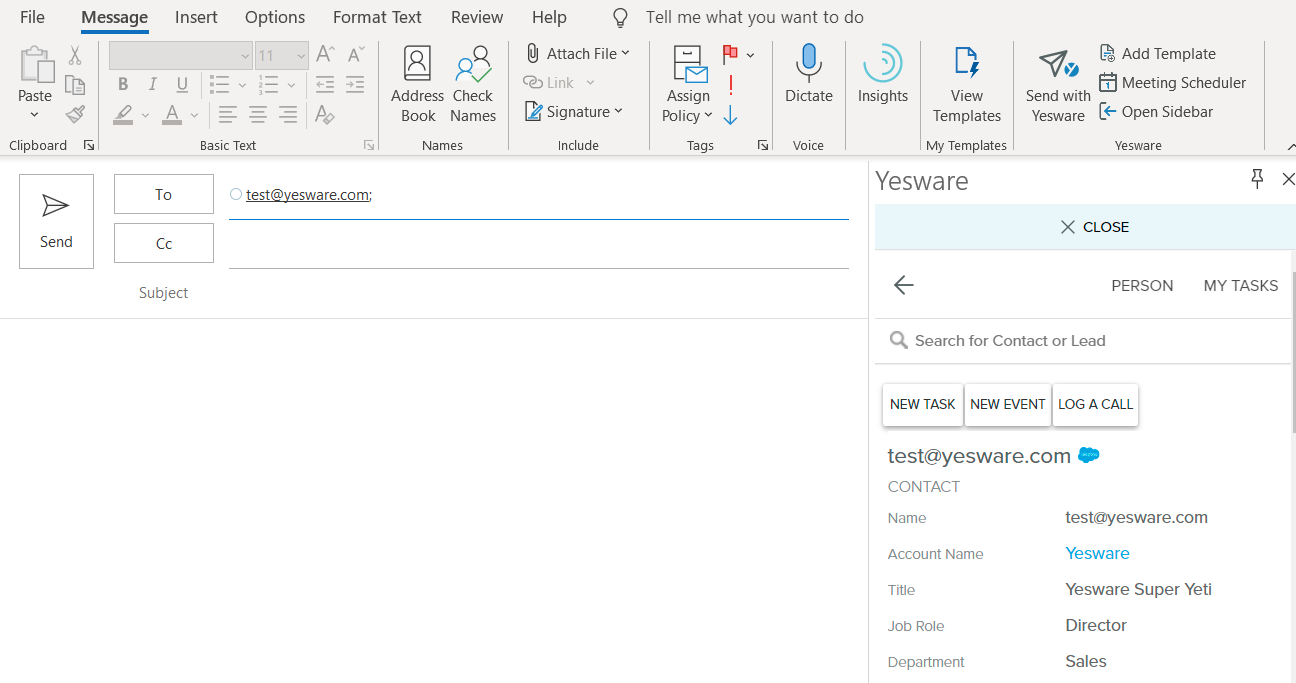 Enabling the 'Add To Yesware Campaign' Button for your Salesforce Page
Prefer to add users to a campaign while you are on Salesforce? Install Yesware directly into your SFDC dashboard at https://www.yesware.com/salesforce-campaigns.
Once installed, make sure to connect Yesware to the account.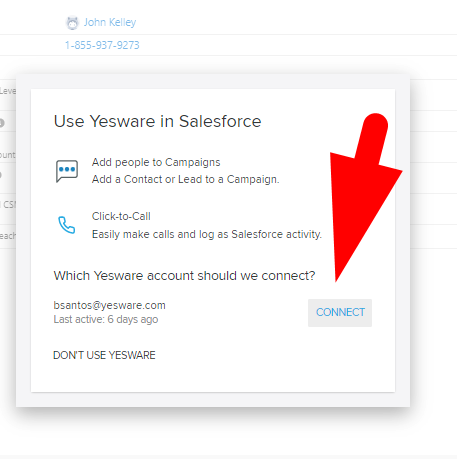 Add individual recipients to Campaigns directly from a Lead or Contact record in Salesforce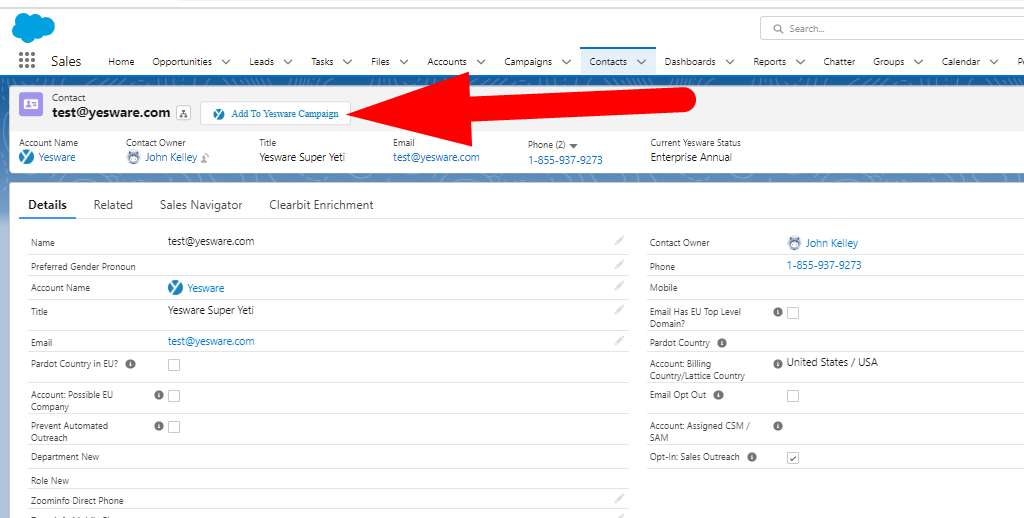 Or add in bulk directly from a Lead or Contact list view.


Sync your Calendar with Salesforce
Tired of manually updating your Salesforce calendar every time you schedule a meeting? Yesware syncs your newly-created Outlook events and event updates to Salesforce within a matter of minutes.
While creating a new calendar event, click the Yesware icon in your Outlook ribbon.
As long as you're connected to Salesforce and toggled on Salesforce Sync, the Calendar Event will sync to your Salesforce. Please note, it will only sync to the first person in the "Required" field.