Yesware's Salesforce integration goes deeper than your emails – we let you sync your Google calendar events (and event updates) directly into Salesforce eliminating the need for manual data entry! You can also sync your Salesforce events into Google.
Not a Yesware user yet? Try a free trial.
You can enable Yesware's Calendar Sync by visiting your Salesforce configuration page in your Yesware account. To set this up, click to enable Yesware Calendar Sync. You can easily disable this feature by visiting this page at any time and clicking "Disable."
Once you've enabled Calendar Sync, Yesware will automatically sync the meeting with the Contact or Lead in Salesforce associated with the first email address added as a guest to the calendar invite. You can also manually select a Contact, Lead, Account, or Opportunity.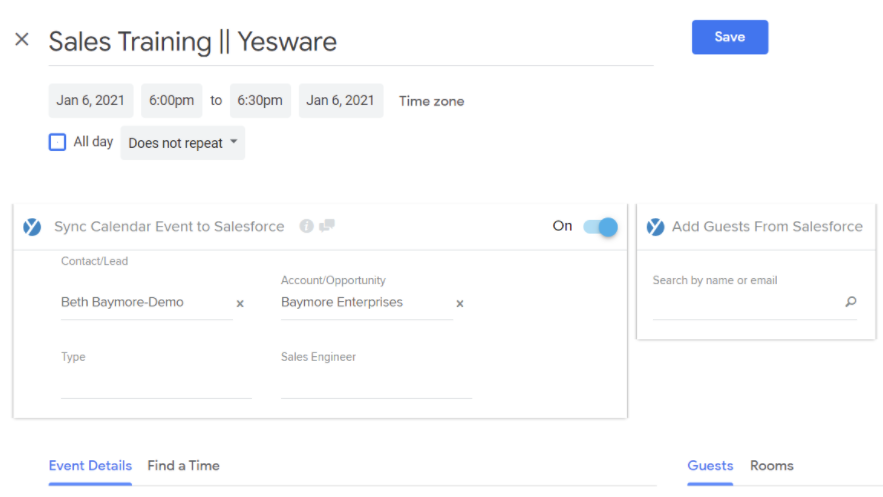 To sync a Google Calendar event to Salesforce when you create the invite:
Go to your Google calendar and create an event.
Make sure you toggle ON the "Sync Calendar Event to Salesforce" so that the event will sync.
You can add guests with the "Add Guests From Salesforce" box or you can add guests as you normally would through the Gcal "Add guests" area.
Using the Contact/Lead and Account/Opportunity drop-downs, you can see who and what the event will sync to. By default, we will choose the first Contact/Lead to add to the guest list, but you can also manually select who and what you'd like to sync to or simply relate the event to an appropriate Contact/Lead instead of adding guests.
To save the event, hit the blue "Save" button on the top-right corner.
Please note, if you have Shared Activities enabled in Salesforce and are using Contacts, you can sync the meeting to more than one Contact. For more information on Shared Activities, please check out this article.
To edit an existing Google Calendar event that hasn't yet been synced:
Access the calendar event and make any necessary edits.
From there, hit the "Save" button.
Any time you're editing an event that you'd like to sync to Salesforce, you'll need to click "save," but you don't have to click "send" in order for the changes to be reflected.
Any edits made to an already synced Calendar event will automatically reflect in Salesforce as well.
To sync an inbound event, simply open the event:
Make sure that Calendar sync is toggled ON.
Verify that it's logging to the appropriate Contact/Lead and Account/Opportunity.
From there, hit "Save."
The synced meeting can be found in the "Open Events" for the corresponding record in Salesforce until the date/time of the meeting has come and gone, and then it will show up in the "Activity History." If no match is found and you don't manually enter a record, then it will sync the event to Salesforce with no associated Contact/Lead and Account/Opportunity.
You can sync events in the past 30 days or future events.
To synchronize events in the other direction from Salesforce to Google Calendar, your Salesforce administrator must install a Salesforce package, which our Support Team can supply you. Please use the "Submit a request" option in the top-right corner of this page to request the package from our Support Team.
Our calendar sync feature is only available to customers on our Enterprise plan.