With Yesware's Reminder feature, you'll never miss a follow up again! Here's how Reminders make your life easier:
Replace notes to yourself with scheduled email reminders to follow-up with a prospect
Let sales automation do the remembering for you
Prioritize emails that haven't received a response
Not a Yesware user yet? Try a free trial.
How does it work?
Reminders help you to stay on top of what's important in your inbox so that nothing slips through the cracks. You can schedule a time to follow up on the emails you send and Reminders will ping you at the top of your inbox with the original email and notes for your next follow-up. You can set them at the time of send on the email, choosing to be reminded if a recipient doesn't reply (you can also set Reminders that come back to you even if a recipient does reply) so that you can follow up, or you can set a Reminder on an incoming email or retroactively on a previously sent email.
When composing an email, click the "Remind" button (the little bell icon) at the bottom of the compose window.
Choose if you want to be reminded only if the recipient doesn't reply to your email or regardless of whether they reply
Schedule when you want to be reminded using the drop downs or pre listed time-frames
Write yourself a note about why you want to be reminded about this particular email
Click confirm and send the email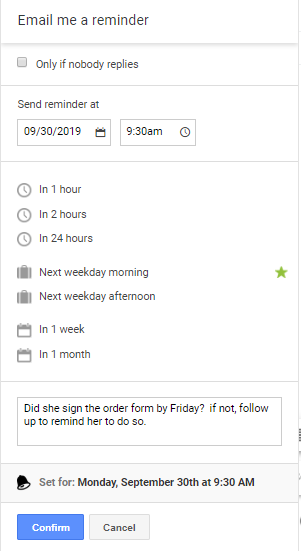 When your Reminder is scheduled to fire, you will receive an email from yourself to yourself that will say "Reminder" and have your related notes and valuable tracking information that'll help you determine how best to follow up. If you have "Conversation view" turned ON in Gmail (this is a specific Gmail setting), your Reminder email will thread with the original email send, bringing it to the top of your inbox as an unread email so you can easily reply to the original message (making sure not to reply to the Reminder).
What happens if I forget to set a Reminder before I send the email?
You can always go to the sent message and click the "Remind" button in the upper right hand corner, setting the Reminder retroactively.
Can I set a Reminder on an incoming email?
Yes! Similar to setting a Reminder retroactively, open the incoming email. You should see the Remind button in the upper right.

How do I view Upcoming Reminders?
In the Activity Feed, click "Scheduled." Here you will see any upcoming Reminders (as well as any upcoming Send Laters) you may have.