Yesware's Campaigns lets you stay on task and maximize your outreach through multi-touch, multi-channel campaigns. It's easy to set up a Campaign and get started quickly. Let's walk through how to do so and you'll be up and running in no time!
New to Yesware? Sign up for a free trial!
This article contains the following topics:
Creating and sending your first Campaign

Managing your Campaign

Your Campaign's reporting and metrics
Check out this video for a full overview of Campaigns:
How to create your first Campaign
Start creating Campaigns by navigating to the add-ins section of your Outlook ribbon and clicking on Open Campaigns.

This will open a new window where you can then click New Campaign.
From there, give your Campaign a name and upload a recipient list — from Salesforce, a CSV file, or by manually adding recipients: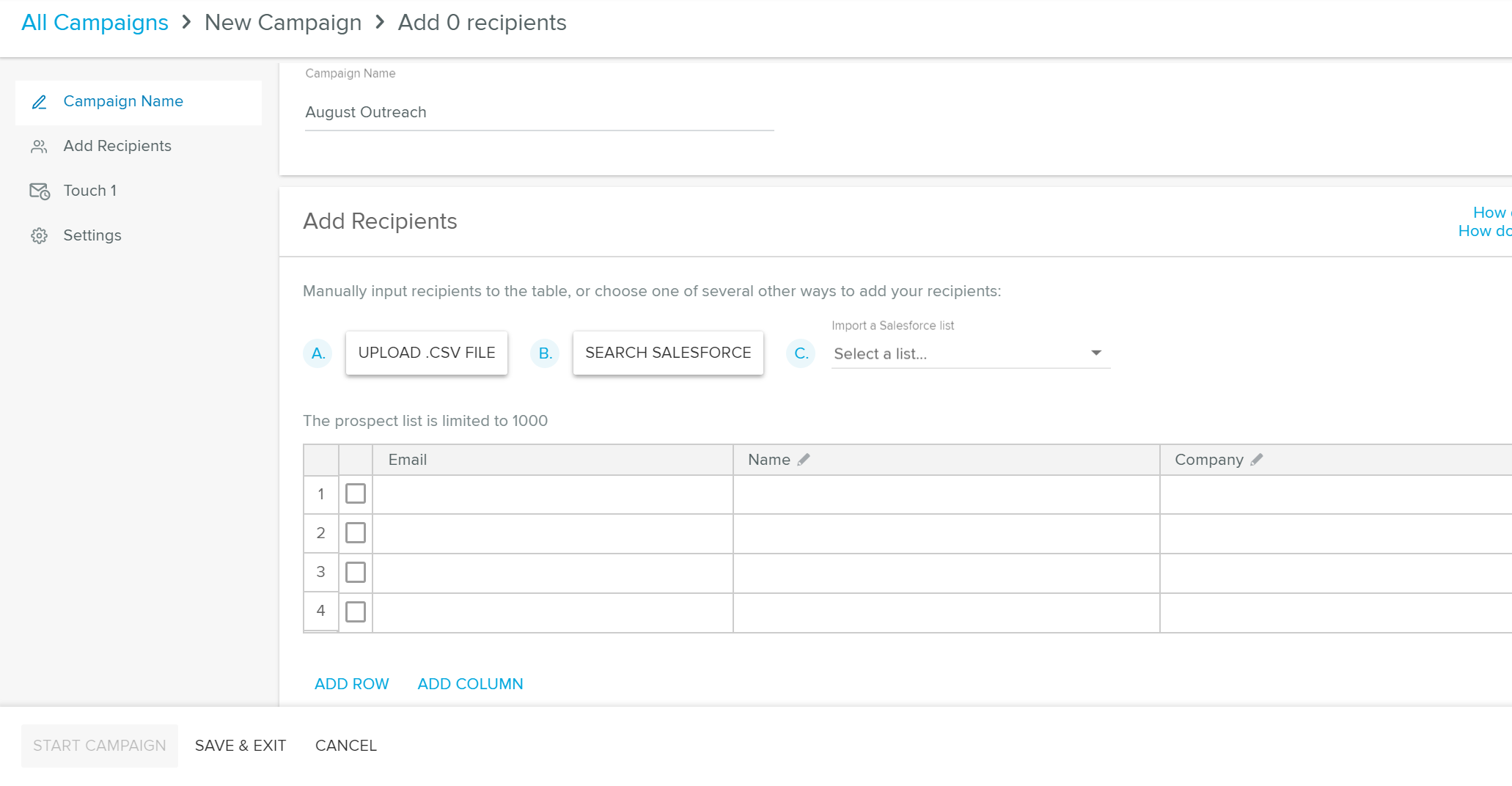 Note: Once you've saved a Campaign, you'll still be able to add more recipients if you want to use it again later. You'll also be able to add recipients to a Campaign directly from Salesforce, using a Contact or Lead list view or from an individual Contact or Lead record.
Here, you can set up an unlimited number of touches, though we recommend keeping it somewhere between 5 and 10.
Pick the type of touch for your first outreach: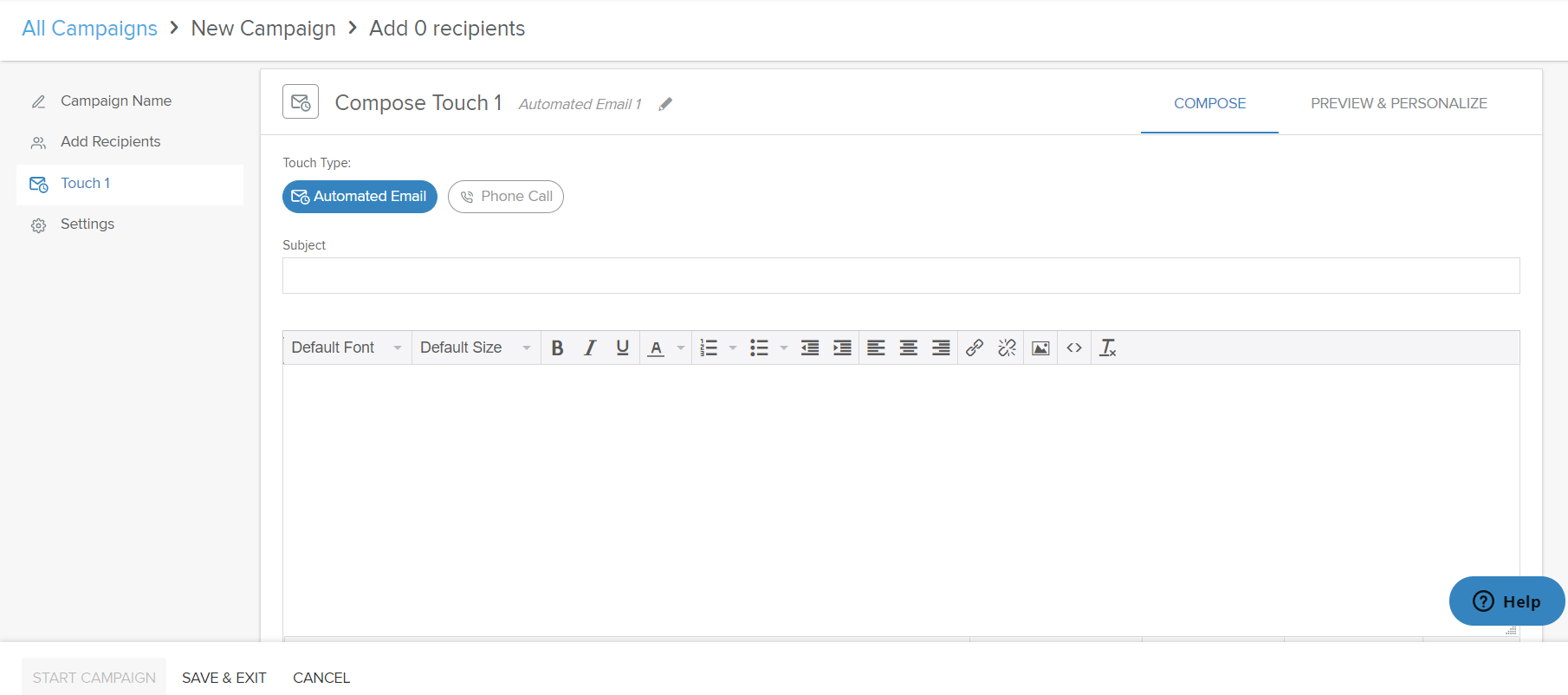 There are two different kinds of touch types:
Automated Email: Schedule your email to send at the time of your choosing. No action is required on your end.
Phone Call: Reminds you to make a call and allows you to log the outcome and save it as a task to Salesforce. Will need to use the Yesware Sidebar to follow through on the call.
Note: To send personalized communications in an efficient way, we recommend using merge fields.
Use the Insert Merge Field button to insert custom fields that line up with the columns in your .CSV, table, or Salesforce field. You will have a dropdown for the insert merge field button that directly pulls fields so you don't have to worry about them matching.
You can preview to make sure that fields are merging properly in the "Preview and Personalize" tab.
Next, choose a time and date to send it out.
Campaigns can be customized by touch frequency, touch timing, and number of touches. Example: You might set up a Campaign with 8 automated email touches each spaced 2 business days apart.
Then, click the time you'd like your first touch to send out. Note: You can choose to send "Immediately."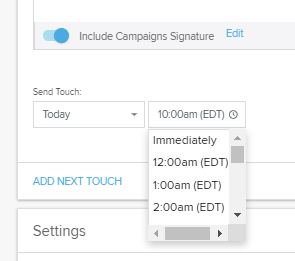 Manage your Campaigns and recipients
To manage your Campaigns and recipients, simply click on the Campaign you wish to tweak. From here, you'll be able to edit the touches and manage recipients.
For recipients, you'll be able to take certain actions in bulk or per a specific individual or domain:
Reschedule: This lets you save the task for later, removing it from the list until the appropriate time

Skip: Skips this step for this recipient and moves the recipient to the next activity in the Campaign

Remove: Removes this recipient from the Campaign

Move to: This lets you move the recipient to a different Campaign, either existing or brand new

Export: Allows you to export the recipients' details and metrics for reporting
To make this easier, you can search across Campaigns by name, email address, or domain, and then take the appropriate action within the Campaign.

Campaigns for Teams
Campaigns can be shared across Teams.
Go to the Campaign you'd like to share, select it, and in the bottom right, there will be a "Share" button. Select that and add the appropriate team(s).
Sharing a Campaign creates a master copy that only you can edit. Others can make individual edits on the recipient level once they use a Campaign. Or, they can duplicate a Campaign for their own personal use. They cannot view or manage your recipients - only their own.
Campaigns Reporting
Campaigns reporting can help you see what's working and improve from there. The Campaigns by Campaign report and the Campaigns by User Report show an overview of the usage and performance for personal and team Campaigns. For Enterprise users, the Salesforce sync pulls your contacts and leads into Campaigns and engagement into sidebar tasks. It also pushes back activities like emails, calls, replies, and meetings, so that you're able to see a Campaigns success within Salesforce.